Privacy & Policy
Last modified: March 23, 2023 (view archived versions)
Introduction
Your privacy is utmost important to TechUp Labs Private Limited ("TechUp Labs", "we", "us" and/or "our") . We have created this Privacy Policy to explain how we gather, utilize, and otherwise process information about you that directly identifies you or makes you recognisable ("Personal Data") in affiliation with our website https://techuplabs.com/ (the "Site") and the choices you have regarding that information.
Information that TechUp Labs collects
For the purposes of this privacy statement, 'Personal Information' is any data that can identify an individual which is in possession of TechUp Labs
We collect the following categories of Personal Information:
Information that you provide via our website, including information you provide when you register on our website e.g. name, email address, designation, company, country etc
Information about your computer and about your visits to and use of this Site, such as your Internet Protocol (IP) address, demographics, your computers' operating system, and browser type and information collected via cookies
Information about your type of mobile device, Your mobile device unique ID, the IP address Operating system, the type of mobile Internet browser You use, unique device identifiers and other diagnostic data.
Information collected from third party sources while You engage with Us through Social Media Websites. You may allow us to have access to certain information from your social media profile based upon your privacy preference settings on such platform.
How We Use your Data
We may use Personal Data for the following purposes
provide information and services as requested by you.
assess queries, requirements, and process requests including job application
to provide access to desirable content based on your preferences.
perform client communication, service, billing and administration.
conduct data analysis.
assess web site performance and usage analysis
maintain leads
run marketing or promotional campaigns
provide better services and generate demand
Sharing of personal information with the third parties
We do not share personal information about you with Business Partners, Service Providers, Authorized Third Party Agents except: (a) to provide products or services you've requested; (b) when we have your permission: or (c) under the following circumstances:
We may share information with trusted entities for legitimate business purposes
We may share information with authorities or agencies in compliance with legal regulations
Information may also be shared with law enforcement agencies in the event of illegal activities and to prevent fraud, ensuring the protection of TechUp Labs' rights and safety.
We may also share information with vendors only with Your consent.
Cookies
A cookie is a small file that is downloaded to a user's computer or mobile device when they access certain websites. It allows the website to recognize the device and can be used for things like website analytics, targeted advertising, and recording user preferences or authentication.
Types of Cookies used
Performance Cookies : By enabling these cookies, we are able to keep track of the number of visits and traffic sources, allowing us to enhance the functionality of our website. This data enables us to determine which pages are most frequently visited and which ones require further improvements. In the event that you do not allow these cookies, we will be unable to keep track of your visit and monitor the performance of our site.
Persistent Cookies: Persistent cookies are a type of data that remains stored on a device even after the end of a browsing session. These cookies are utilized to conduct behavioral analysis with the aim of improving user convenience and experience, as well as presenting visitors with targeted and pertinent content. Depending on the type and settings of your browser, cookies may be accepted by default. If you disable cookies, certain parts and functions of our website may not be available. You can delete all cookies that are already on your browser by clearing its browsing history.
Targeting Cookies: Our website uses cookies from third party companies to help us understand our site, run targeted advertising campaigns, and make advertisements more relevant to you. These companies collect information about your browsing activities on our site. If you do not allow these cookies, you may experience less targeted advertising.
You can manage non-essential or functional cookies in your browser settings under the privacy section.
Chrome: https://support.google.com/chrome/answer/95647co=GENIE.Platform=Desktop&hl=en
Firefox: https://support.mozilla.org/en-US/kb/enable-and-disable-cookies-website-preferences
IE: https://support.microsoft.com/en-in/help/17442/windows-internet-explorer-delete-manage-cookies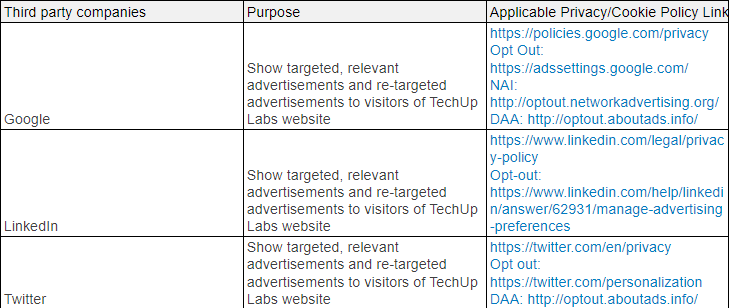 Data Protection
We keep personal information safe by using reasonable and appropriate security measures like administrative, physical, and technical controls to prevent loss, misuse, alteration or destruction.
Data Retention
Personal information will only be kept as long as necessary for the purposes stated in the privacy statement, unless it is required by law or for legitimate business reasons.
Children's Personal Information
Our website and services are not designed or intended for children under the legal age of majority to use. Children's personal information is never knowingly collected by us.
Your Legal Rights
Subject to the laws of your country, You have the right to access, correct, delete or transfer your Personal Information that We hold on you. If you don't provide the necessary information, we may not be able to provide the necessary service to You. You also have the right to object to certain processing and withdraw consent. However, in some situations, these rights may be limited by legal requirements. You may choose to opt out of receiving marketing communication by clicking unsubscribe.
Links to Other Websites
Our website may have links to other websites that we don't operate. If you click on these links, you will be taken to a different website. We recommend that you read the privacy policy of every website you visit.
We are not responsible for the content or privacy policies of any third-party websites we link to.
Effective Date
This Privacy Statement is effective from March 01, 2023 and it supersedes all existing polices on the subject matter.
Notification of changes
We may need to update our Privacy Policy due to changes in our operations. It is recommended that users check the policy regularly, especially before sharing any personal information. Major changes will be communicated through email or other methods, and all changes will take effect on the day they are published.
Users can choose to stop using TechUp Labs at any time.
Contacting TechUp Labs
If you have any questions concerning TechUp Labs' Privacy Policy or our information practices, please feel free to reach us info@techuplabs.com. We will undertake reasonable efforts to resolve or address your concern in a fair amount of time.